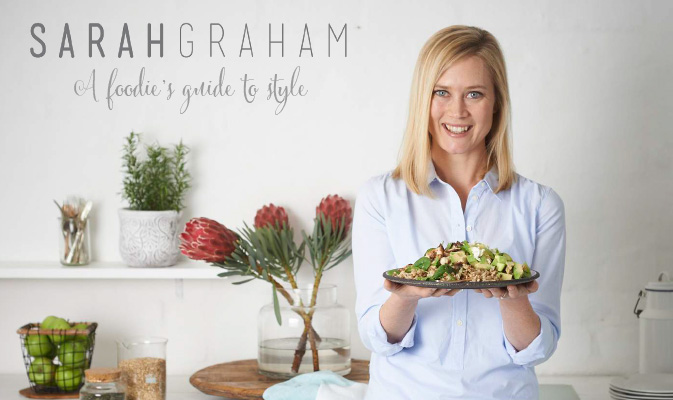 SarahlovesMiele
Leading German appliance manufacturer, Miele, joins forces with celebrated South African-based cook, food writer, TV Show host, wife and mother, Sarah Graham, as its brand ambassador.
10 May 2017, Johannesburg: For generations, Miele has been inspiring mothers, cooks, and food aficionados around the world to prepare perfectly delicious meals that they can share with friends and family. It is this foundation centred on food, spending time together and making memories that makes admired cook, TV Show host and food writer, Sarah Graham such a perfect fit for the brand, says Miele's Liam Gawne: "Sarah grew up on a wildlife conservancy in Zimbabwe, and this instilled in her a love for Africa, as well as a food philosophy that is built on sharing beautiful, simple, healthy food with those she loves. By partnering with Miele, Sarah will have access to the best appliances that money can buy – allowing her to create virtually any food her heart desires."
Sarah started her food blog, A Foodie Lives Here, in 2010, and has since published four best-selling cookbooks – Bitten (2012), Smitten (2014), Home. Food from my Kitchen (2015), and Wholesome (2017). She has also filmed two series of the popular cooking show, Sarah Graham's Food Safari, which has aired in South Africa and internationally, including the United States and Australia. The series takes viewers on an epic food journey through some of Sarah's favourite spots in southern Africa.
She says that her involvement with the Miele brand was a natural choice for her: "Like any foodie and chef, I have always admired Miele appliances for their unbeatable quality, state-of-the-art technology and innovation. Cooking is a passion of mine, but cooking with a Miele appliance really takes the experience to new heights. Another of my passions is Africa and conservation, and in this regard, I really admire Miele's green credentials and their respect for our environment."
For more than 100 years, Miele has been a proven adage that you can trust and rely on our appliances in every way, says Liam: "We are the only manufacturer in our field to design, test and manufacture appliances that last for a minimum of 20 years. Aside from durability, Miele also stands for excellent results, game-changing technology, combined with best-in-market, cradle-to-grave sustainability. And, of course, just like the fact that 'you eat with your eyes', good looks in design are also important to us - nowhere else will you find such a comparable range of built-in kitchen appliances, with consistency in design lines and colour options, to suit the most diverse of interior designs and kitchen furniture fronts."
Sarah concludes: "At the end of the day, the appliances you choose become your helpers and your partners in your everyday home life – they help you create great memories with those you love, and live a comfortable and enjoyable life. Together, Miele and I are on a quest to enrich people's lives this way – we want kitchens to be filled with wonderful aromas, delicious tasting meals made from fresh food, and above all, time spent and remembered with those you love. I am really looking forward to our journey together!"
ENDS
Released on behalf of Miele (www.miele.co.za) by The Line (www.theline.co.za).