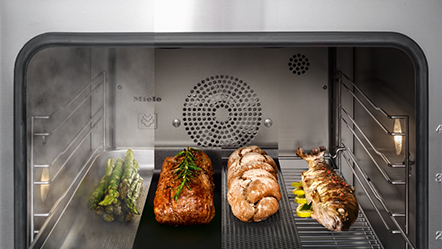 Visit one of the Miele Centres below and let us show you how to make the most of your Miele steam oven. During this two hour demonstration you will learn the principles of steam cooking, operating your steam oven, caring for your steam oven and chef`s tips & tricks on steam cooking. You will also get to sample some dishes which showcase the potential of a Miele Steam oven.
This course runs for approximately 2 hours. Suitable for the following appliances:
DG6010, DG6100, DG6200, DG6300, DG6400, DGM6401, DGM6500, DGM6600, DGM6800, DGM6805
For booking and more information, please contact our resident chef:
gerhard.koekemoer@miele.com or 011-875-9000.
Dates:
Miele Bryanston | 14 November 2019 @18:00
Miele Menlyn Maine | 13 November 2019 @ 18:00
Tickets: R260pp.
Complimentary event for Miele Club Members.