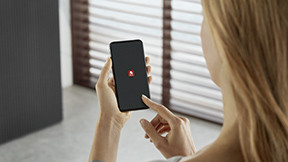 Miele App: everything is conveniently under control
Your perfect companion: with the Miele app, you can always keep track of your Miele appliances. For example, would you like to keep an eye on the cooking process in the oven or find out whether the wash programme has finished? The app provides you with all the necessary information and is fast and convenient to operate. Moreover, the app also offers additional information and services for your Miele appliances, e.g. the BaristaAssistant or recipes. Download the app now!
View Video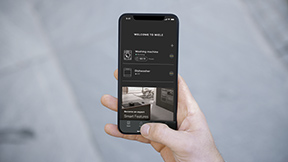 The Dashboard: your control center
The dashboard provides you with an optimum overview of the current status of your networked Miele appliances at all times. You can see immediately whether the washing programme is already finished or the oven is hot. Thanks to the fast access function, you can make important settings, such as pause or stop. Furthermore, the new design allows operation to be even simpler and more intuitive.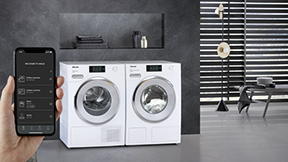 MobileControl: always everything under control
Fast and convenient: thanks to MobileControl, you can keep everything under control and also intervene directly when you need to. You can easily select the programme, delay start and other options directly via the app. All this makes operating your Miele appliances really easy.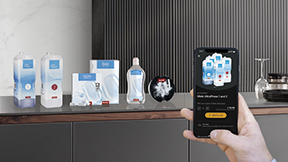 ShopConnect: order cleaning products quickly and conveniently via the app
With ShopConnect you can conveniently order Miele consumables and accessories using your mobile device. As soon as your supplies of Miele cleaning products or coffee are running low, you receive a push notification. The app enables you to order supplies with just a few clicks.​​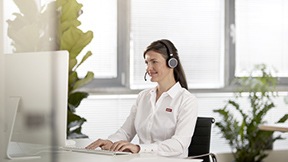 RemoteUpdate: always up to date
Do you want to keep the effort of maintaining up-to-date networked Miele appliances to a minimum? No problem with the RemoteUpdate function. Available software updates are easily transferred and downloaded onto the appliance in question as far as possible – without having to call a service technician. The details of the update are available in the app as release notes.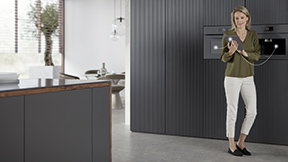 PairingAssist: supports in networking devices
Step-by-step instruction on how to add new appliances. The app guides you step by step through the registration process, including supporting graphics. Nothing stands in the way of successful networking.
*Available for a mobile device (for the minimum requirements, see the information from the App Store).