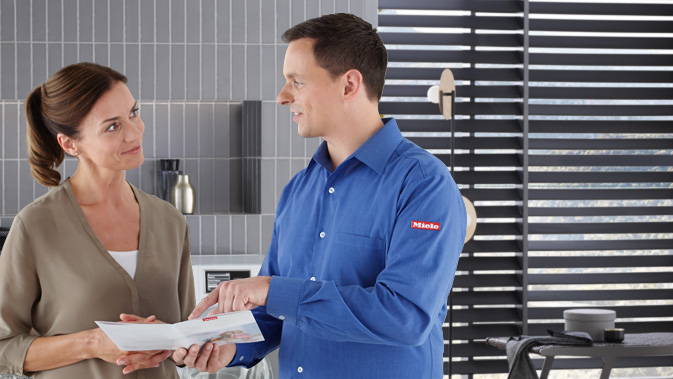 Professional maintenance and performance check for all Miele domestic appliances.
Miele appliances are designed and built to the highest quality and tested to last. It is reassuring to know that during the many years of use, Miele is there to assist you with the Miele Exclusive Care program by professionally maintaining your appliances. Miele Exclusive Care is a professional maintenance service for Miele domestic appliances conducted by our qualified technicians. It includes thorough cleaning, care and maintenance of your appliances as well as a performance check with diagnostic tools. The diagnostic system, specially designed by Miele, is used to check your appliances and make sure they are kept up-to-date. Apart from examining your appliances' functions, your appliances will also be cleaned with Miele care products. In addition, program and software updates (if applicable) as well as valuable tips and tricks for operating and maintaining your Miele appliances will be provided to ensure optimum performance.
Value preservation of your appliances
Cleaning and maintenance by Miele experts ensure that your appliances are always in perfect condition.
Perfect results
Regular maintenance and functional testing as well as program updates ensure that you will always achieve the best results.
Valuable tips
The Miele experts are available for you with tips and tricks on everything regarding the optimal use of your appliances.
Contact
Exclusive care flyer
| Description | Format | Download |
| --- | --- | --- |
| Miele Exclusive Care Flyer | PDF | Download |